Auvergne
French regional jewellery - Auvergne
The regional jewellery from Auvergne is based on enamelled crosses and Holy Spirit pendants of varying shapes, depending on the exact area of production and use. The crosses always had three drop-shaped pendants hanging from the arms and the base which represented the tears of Christ who was said to have wept three times. These tears are sometimes missing from the crosses and it is likely that they were removed by their owners either to keep up with fashion or to balance out the design when one of them was lost. The Holy Spirit pendants are very stylised and in some cases, such as those from Briode or Clermont Ferrand, they look more like crosses and it is possible that they indeed evolved from crosses. These crosses are sometimes set with citrines which are backed with foil. The foli is generally embellished with a red spot in the centre, and this gives the citrine a colour which changes according to the angle from which it is viewed.

Auvergne cross,
gold and strass

Aurillac Holy Spirit pendant,
gold, enamel and strass

Holy Spirit pendant or cross from
Clermont Ferrand, gold and garnets

Holy Spirit pendant from Brioude, with its rose of Velay suspension, both in gold set with garnets
also called "croix de Brioude"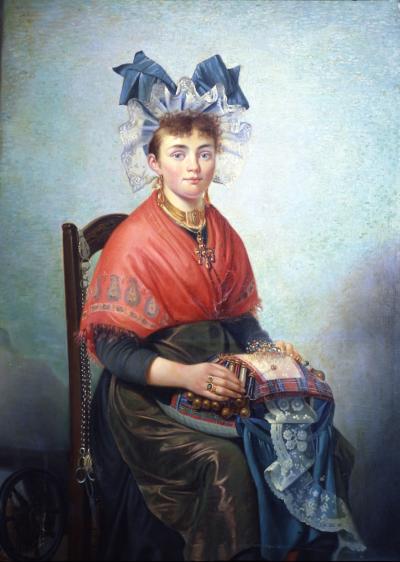 Léon Giron, "La dentellière d'Espaly", Musée Crozatier, Le Puy en Velay
necklace with Holy Spirit pendant, earrings, rings and a chatelaine on the chair
| | | |
| --- | --- | --- |
| Velay cross, gold | Velay cross, gold | Velay cross, gold |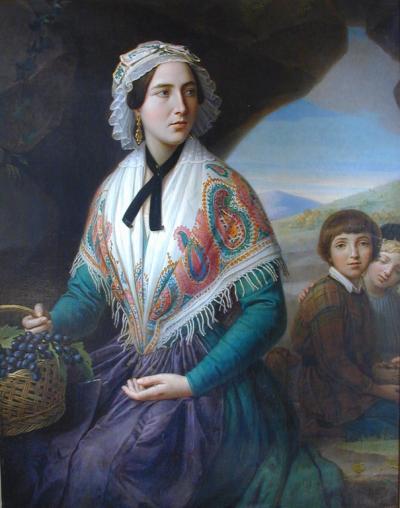 Thomas Degeorge 1786 - 1854 - Paysanne assise, 1852
with the kind permission of the museum of art Roger-Quilliot [MARQ], town of Clermont-Ferrand

Holy Spirit pendant from Le Puy en Velay,
very thin gold and garnet

Holy Spirit of Aurillac pendant,
silver and enamel


Holy Spirit necklace from Le Puy en Velay, gold, enamel and garnet
note the two different plaques - quite possibly purchased separately after the births of children

cross from Le Puy en Velay
gold and enamel

Auvergne cross
gold and enamel

cross from Le Puy en Velay
gold and enamel (tears missing)

croix du Puy en Velay, gold, blue enamel and garnet
the three drop-shaped pendants represent the tears of Christ


rose of Velay pendant
gold and glass (loop and drop is missing)

rose of Velay pendant
gold and glass (loop is missing)

esclavage (slave) necklace, gold and enamel

cross from Puy en Velay with four enamelled plates
(the tear-drop pendants are missing and were probably removed when they became old fashioned)

Aurillac Holy Spirit pendant,
gold, enamel and glass

Aurillac Holy Spirit pendant,
gold, enamel and glass
| | |
| --- | --- |
| Holy Spirit from Aurillac, gold, enamel and glass | cross from Le Puy en Velay with chain |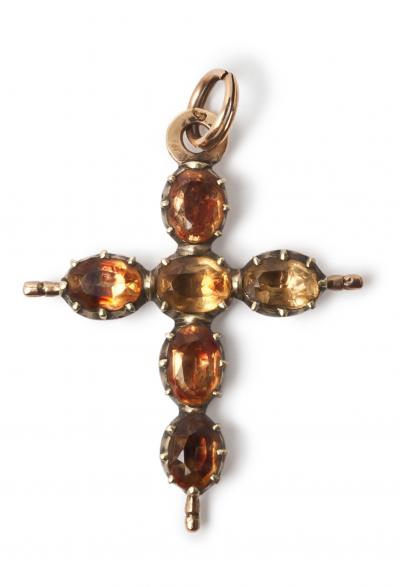 Auvergne cross, gold and glass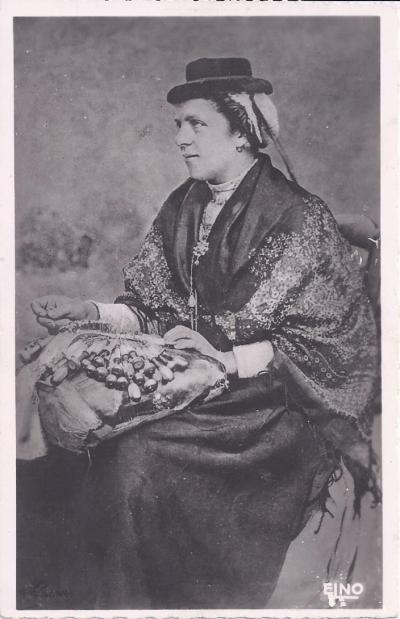 lacemaker from Le Puy en Velay with Velay rose pendant on chain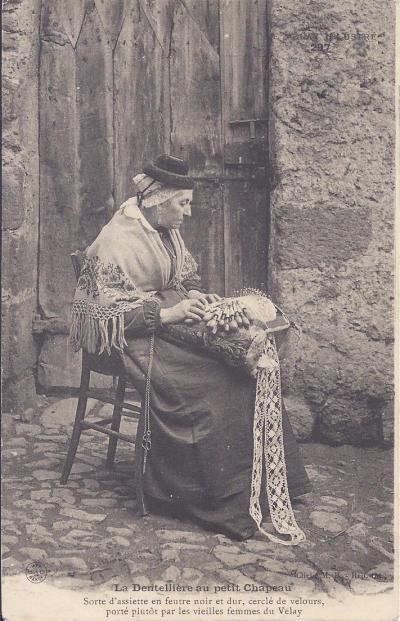 lacemaker from Le Puy en Velay Velay with rose pendant on chain and scissors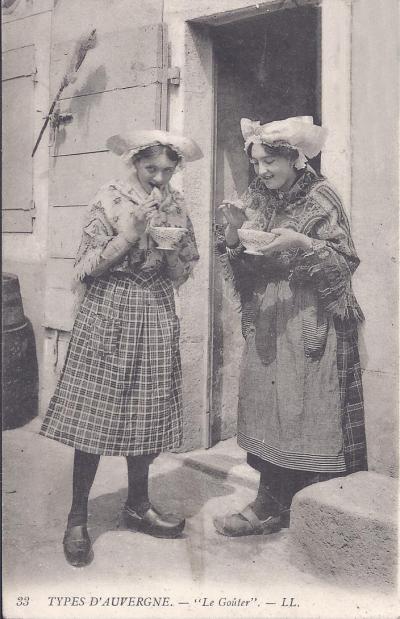 French folk dress from Auvergne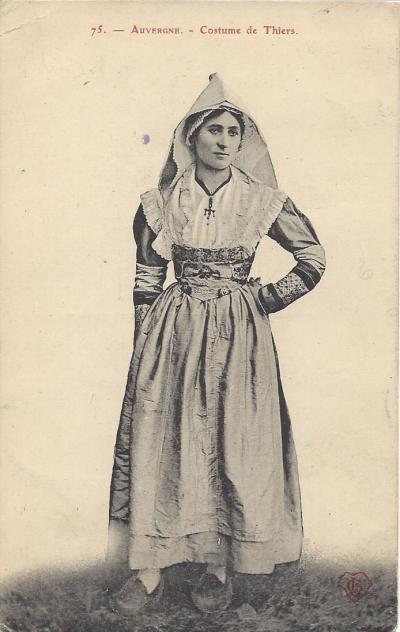 French folk dress from Thiers, Auvergne with Holy Spirit pendant on ribbon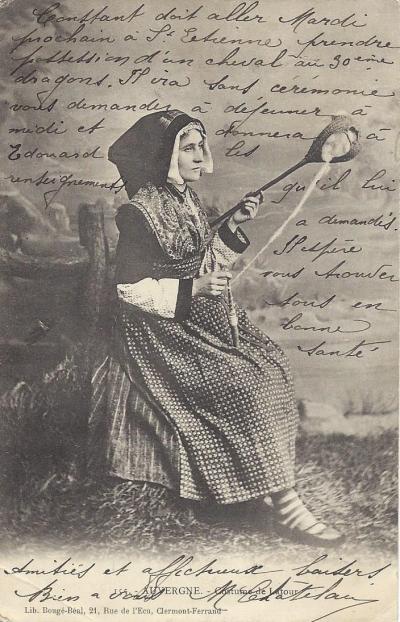 French folk-dress from Latour, Auvergne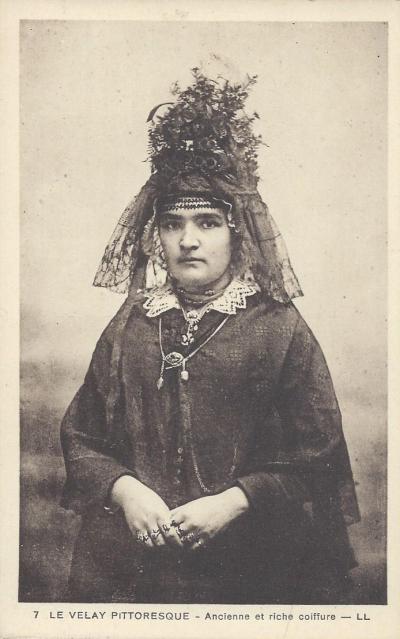 antique and elaborate hair-wear from Le Puy en Velay, Auvergne
contents:
croix écotée - pendentif Saint Esprit - Saint Esprit d'Aurillac - rose de Velay - collier d'esclavage - croix de Puy en Velay - croix de Brioude - Saint Esprit de Brioude - croix d'Auvergne - bijoux d'Auvergne - bijoux auvergnat - collier Saint Esprit de Puy en Velay - rose de Velay - croix de Velay - croix auvergnate - bijoux d'Auvergne et du Velay - costume regional - bijoux régionaux - coiffes - coiffe auvergnat - bijoux des régions de France - bijoux régionaux - les bijoux traditionnels Français - croix régionales - Léon Giron - esclavage auvergnat - Saint Esprit d'Aurillac - Saint Esprit auvergnat - Thomas Degeorge - Léon Giron - costume régional auvergnat - bijoux des régions de France -Bijoux d'Auvergne et du Velay - Orfèvrerie profane et sacrée par Marcel Astruc - antieke zeeuwse streeksieraden - streeksieraden in zeeland friesland
French regional jewellery - Auvergne